This is the second part of Kinjal Vasavada's three-part photo essay following her medical school buddy, Adriana, through her pregnancy. Find the first part of her photo essay here.
---
Content Warning: mental health & substance abuse topics discussed
Mental health and medication use during pregnancy

At the beginning of her pregnancy, Adriana stopped taking her depression medications, worried that it may affect the baby.
In the United States, nearly 8% of pregnant mothers take antidepressant medications during pregnancy. The decision of whether or not to medicate can feel difficult. Both depressive symptoms and antidepressant medications are associated with preterm birth and low birth weight, which are known to have detrimental impacts on infant development, including a higher rate of respiratory problems, feeding difficulties, developmental delays, and vision and hearing issues.
"Going from medication to no medication was a big change. I figured I could do it, but it got to the point where I didn't want my boyfriend near me, didn't want to go home, do anything, eat. We both decided that I needed to get back on medication before I have a mental breakdown. Being back on my medication is better for me and for the baby. If I'm not healthy, he's not healthy. He needs a positive mom, with the way my brain works and the depression and the stress of everything at home…Jason's [upcoming] trial."
The upcoming trial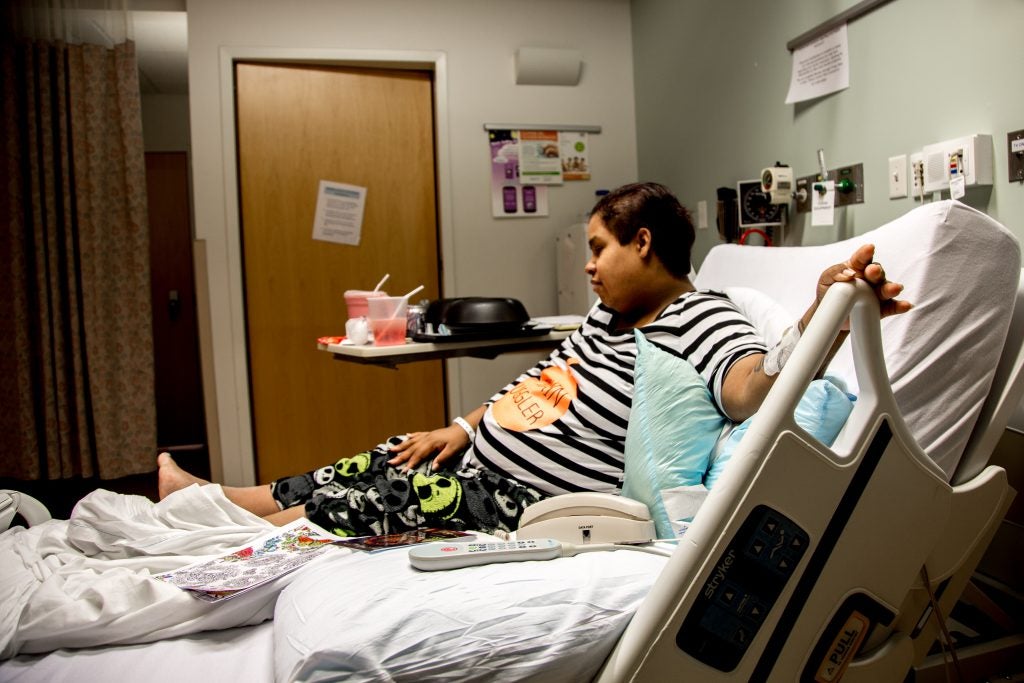 "We stressed constantly about the trial. And you could feel it in the house because it was so intense. We didn't hold hands or talk as much."
A week before the trial things got better. Adriana and Jason were laughing more and cooking together.
"He makes this spaghetti sauce that's really good, and he won't tell me how to make it. Whatever I wanted he made. We'd stay up watching Marvel movies, sit in bed and talk, crack jokes. On a Saturday, he got some popcorn and goodies. We were watching a movie. It wasn't funny but we were laughing hysterically. And he does this thing when we watch movies – he does voice overs. And it sounds like Spanish soccer announcers when they scream GOALLLL for a long time. He was like that the entire movie. And then we fell asleep watching TV.
We knew the following week was trial. Can't get too upset now. We had to enjoy the moment, so that if anything happened and he had to be incarcerated, at least we have that week we had a good time."
"I don't want to do this alone"
Both Adriana and Jason walked into the trial not knowing what might happen. "Jason's a person in long term recovery. He was sniffing Adderall, coke, and crystal meth… crystal meth makes you violent…But he changed. He went to rehab on his own. He never knew he had a mental health disorder – anxiety, depression. He's not an abuser. He's not controlling or jealous. He's completely different from what they were saying in court."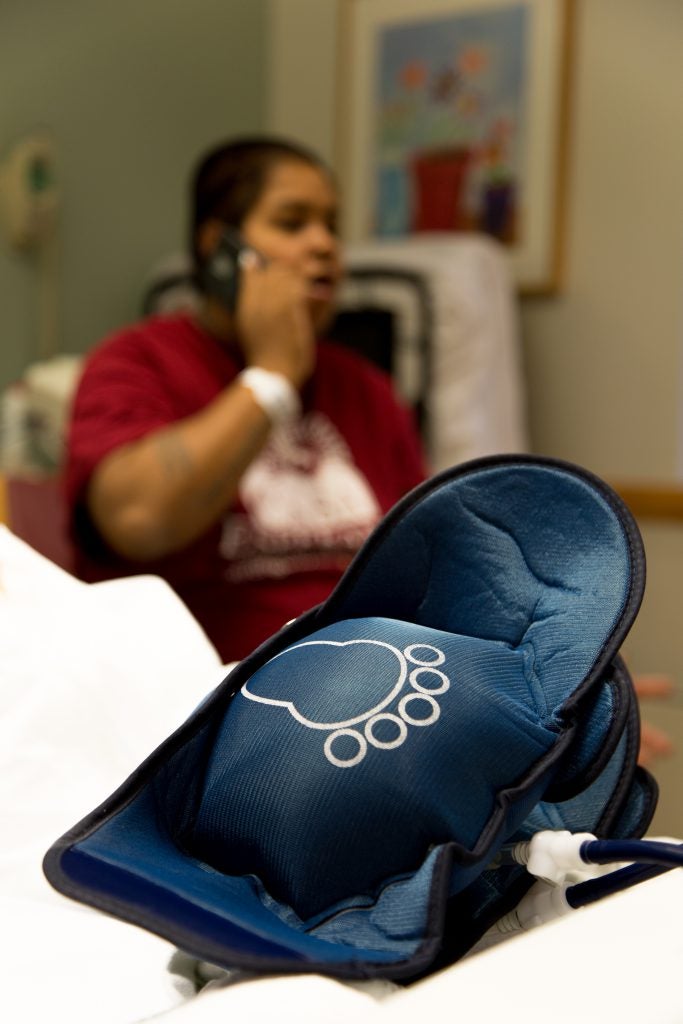 The trial continued and on the last day, when Adriana was at work, she received a call from Jason's lawyer. "I could already tell by his tone of voice that Jason was not coming home. I said ok. 'I need you to come pick up his belongings.' I said ok. I kept saying ok. I had a full blown panic attack with anxiety. In my head I didn't realize how bad it was. I had someone checking my stomach, my heart rate, someone trying to give me water. 'You need to calm down, you're pregnant, your blood pressure is spiking.' Nothing registered.
I wanted him there. When I gave birth. I had already planned everything; me and him would deliver the baby. Not my mom, sister, friends.
I didn't want to do this alone, I didn't want to have a baby by myself."
Navigating pregnancy without a partner can be daunting for many reasons. Research on mothers' experience of maternity care through the UK's National Health Service has shown that single mothers (without a spouse or partner) are less likely to feel like they have been treated with respect and dignity during their care, and experience poorer care and outcomes compared to their counterparts with spouses or partners.
Prenatal care experiences (ultrasound)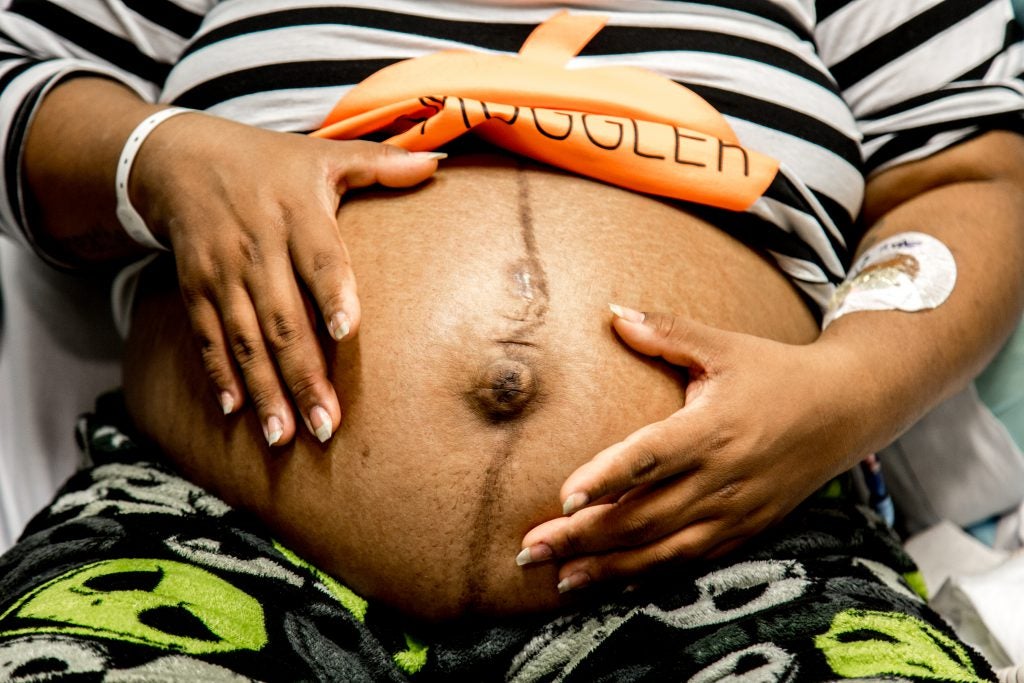 Meanwhile, days and weeks in Adriana's pregnancy flew by.
At appointments and ultrasounds, Adriana frequently heard the phrases like "baby's in the right position, baby's doing great, baby's growing how it should be."
Adriana's experience of getting ultrasounds was like watching snippets of a silent film without context. She was watching intently the entire time, but what appeared on the screen was often not explained to her. When the technician typed in words like "heart," it made sense. Words like "cerebellum" however, meant nothing to her.
Questions to the ultrasound technician were initially met with curt responses, until about the fourth question in, the technician paused and said, "I'm sorry, I can't talk while doing this. The doctor will share with you later."
Ultrasound is a mainstay of prenatal care, yet across facilities and providers, provider engagement, technician attitudes and word choice, and other environmental factors during the ultrasound itself vary. Hence the variability in pregnant patients' experiences and the psychological impact of the ultrasound itself.
Half an hour later, a doctor entered the room and said, "The baby is five pounds and 13 ounces, you're doing great. Any questions?"
Yes, lots of questions! For Adriana, hearing that "everything is ok" after a silent viewing of her baby in utero with no further explanation was anxiety inducing.
What did help was in her last ultrasound, a provider paused and spent a few extra minutes with the probe in hand, talking to her. Research has shown interactive ultrasounds to have benefits like reducing stress among mothers. Benefits of high-feedback ultrasound encounters in which mothers are given real time verbal feedback on fetal size and shape have been shown to promote healthy behavior changes, like helping pregnant mothers quit smoking or alcohol use. For Adriana, the provider's words were like sound to the silent film.
Work and Missed Appointments
During her second trimester, Adriana took on a new position at work, and with coworkers and bosses out on vacation, the demands of her job began to escalate. "I couldn't request time off. It would have been easier if we were fully staffed. I missed a total of three or four appointments. Somebody called me from the doctor's office, saying, 'Do you need a letter for work stating that you have to make these appointments? It's important that you come to these appointments.'" In Adriana's workplace, not everyone understands that. "The clinical director is much more understanding. She's also had four kids so she knows how pregnancy is."
Women represent nearly half the American workforce, and working during pregnancy is much more common than it used to be, with eight of ten pregnant employees working until one month prior to their due date. Workplaces in the US have recently come under fire for discrimination against employees who get pregnant and chose to grow a family. Some employers thwart professional growth; others deny accommodations for physical tasks and prenatal appointments, which have had severe health consequences for pregnant mothers, including miscarriage.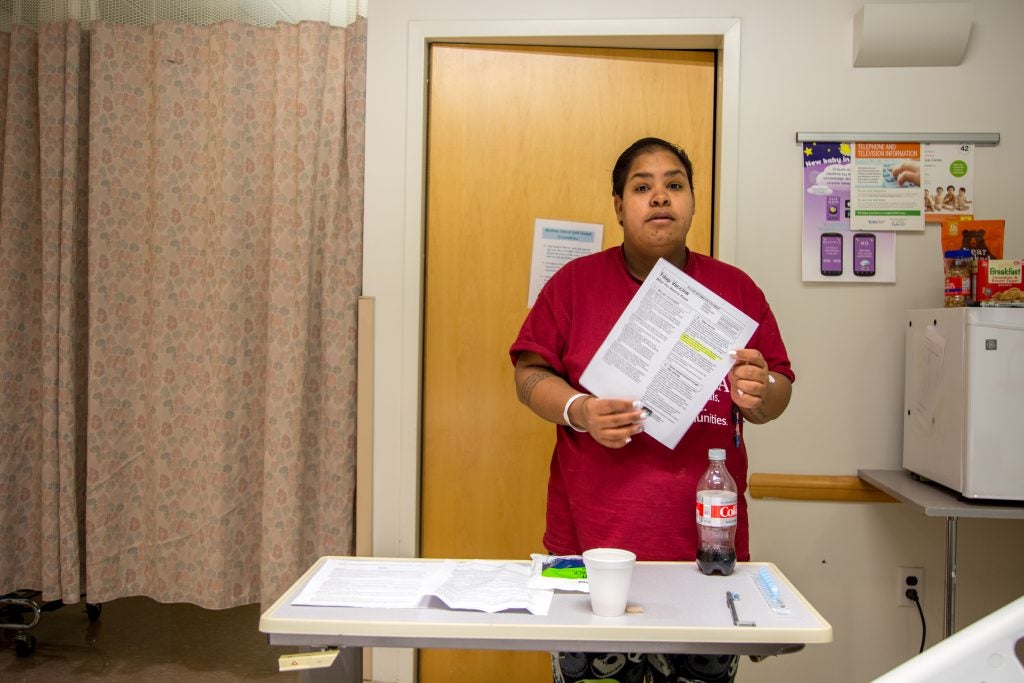 "It was stressful. I kept missing appointments. Folks at the doctor's office were getting mad at me here because I wasn't coming in. Then it got to the point where I would call to make appointments, and nobody would get back to me. 'Somebody will call you,' and I'd be waiting like an idiot for them to call me back…like two days later. Then I'd email them. Somebody called me private, and I don't answer private calls, so when I tried to call them back, it was like tag. I couldn't reach anyone. I tried to call them that my sugar's spiking. I had two readings back to back that were in the 200s."
Several days and phone tags later, Adriana finally got an appointment. In the upcoming weeks, Adriana began 24-hour urine collections and more frequent visits to the doctor. Then came the diagnosis of gestational hypertension and gestational diabetes. Just days later, she was admitted for pre-eclampsia.
"I feel like if I hadn't missed those appointments, we would have caught on to the protein in the urine and the pre-eclampsia."
Preeclampsia and Paid Family Leave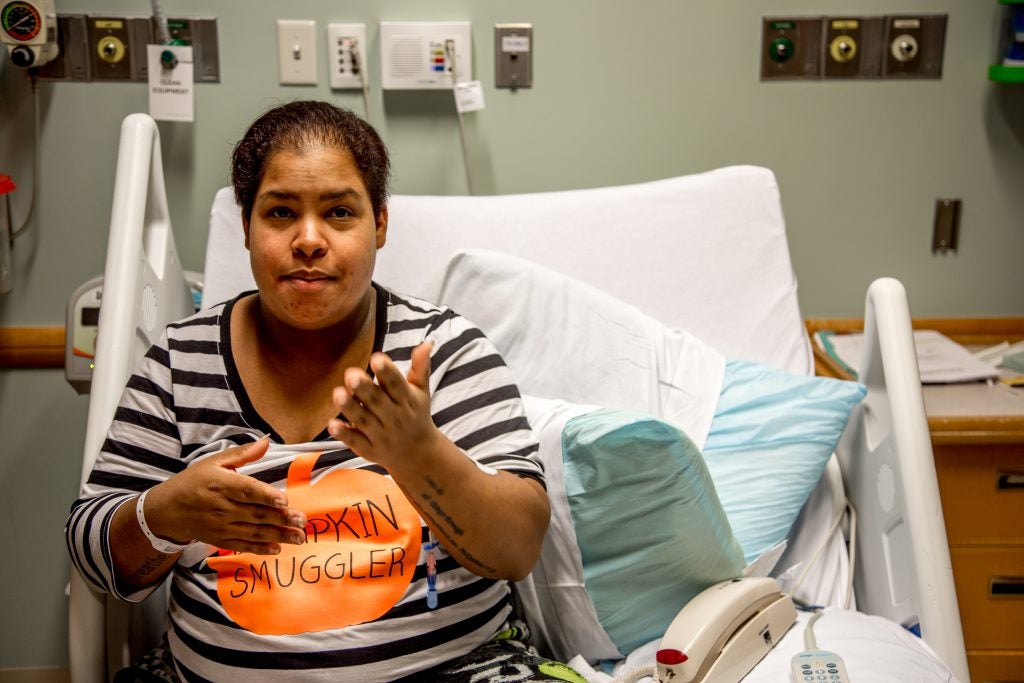 "My biggest fear was pre-eclampsia – because both of my sisters had it."
Pre-eclampsia affects 2-7% of pregnancies, and is one of the largest drivers of premature delivery and perinatal death in the United States. Pregnant mothers who experience high levels of stress during pregnancy – emotional or job related stress, for example – or increased allostatic load due to chronic stress have a higher risk of developing preeclampsia.
"It sucked because I'd met like half the OB team and each one had something different to say. No one's on the same page. I'd ask a question, and they'd dismiss it. It wasn't that serious for them to be worried about it."
But soon, it was. The first time a provider told Adriana about the possibility of getting admitted to the hospital, Adriana and her family were worried about her health. Getting admitted also meant missing days of work and forgoing the income that she needed for rent and utilities bills.
Adriana was eventually admitted to the hospital. "I'm glad I'm here. My boyfriend is happier that I'm here because they'll be monitoring me. If I'm having a headache, they're quick to come here, check my blood pressure, see what's going on." In the hospital, her health felt like a priority.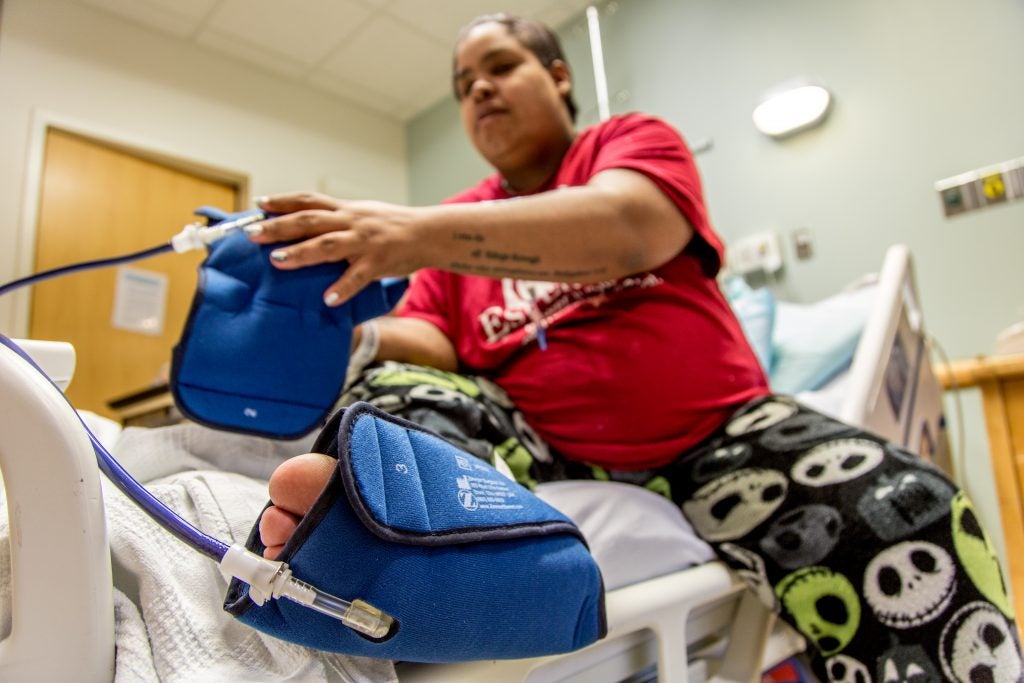 Adriana's original projected due date was Thanksgiving day. She was expected to go back to work in January, which would give her six weeks with her newborn. Her early admission and delivery meant three extra weeks with her newborn, which she counts as a blessing, because she'd wanted to spend more time with him. "I have to go back to work in January. How am I going to pay for rent in January and February? I can't afford it." Paid family leave is known to have health benefits for newborns and their families, including reduced infant mortality and parental depression. Yet according to the National Compensation Survey (NCS), in 2017, only 15% of US employees had access to employer-sponsored paid family leave. Hispanic and Black employees are less likely to have access to leave, and also less likely to take the leave, than their white counterparts. More mothers are returning to work within six months of birth than ever before – often to jobs that will pay them less than their male counterparts – and many because they cannot afford to spend time with their newborn baby.
---
Part 2 Reflections
Adriana's experiences inside and outside the hospital illustrate the compelling opportunities for systems – hospitals, workplaces, neighborhoods – to better support pregnant mothers.
Mental health conditions before and related to pregnancy are increasingly common. How might we reduce the shame and stress mothers experience around mental health conditions during pregnancy? How might providers better prepare patients with mental health conditions who are interested in getting pregnant about the decisions that they might face around managing their mental health during pregnancy?
Across the board, workplaces and their policies can be physically and professionally unfriendly to pregnant employees. How might workplaces better support employees with growing families?
Patients interact with a wide variety of hospital and health system staff throughout their care journey. The quality of these interactions vary. How might hospitals and health systems create a unified experience of care, and equip staff at all levels to deliver that experience?
Providers, who are constantly dealing with the stresses of working within a healthcare system, often use medical language that's inaccessible to patients and dismiss the concerns of patients. How might we help providers communicate empathetically with all patients? How might health systems support empathetic provider-patient communication?
Medical students involved in the care of patients have less knowledge and experience than most providers, but more time to spend with patients than most providers. How might medical students use their unique role within healthcare systems to improve patient care experiences and outcomes?
The next installment in this series will focus on Adriana's aspirations for her baby, and the relationship and healthy lifestyle changes she's pursuing to make those aspirations a reality.